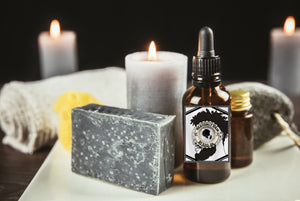 WHAT HEAVENLY HAIR BEARD OIL DOES… 
Heavenly Hair Beard Oil is

 

lightweight, disappears into your facial hair and leaves no greasy residue.

Moisturizes the beard. Makes it

 look good and feel soft
Purifies and soothes the under-beard skin.  

Keeps it moisturized, clean and healthy-looking  




The key ingredients,

 Amla and Vitamin E,

 

are known to give the look of a

 

thicker, dense beard!


Excellent as an after-shave emollient to

 

moisturize the skin  


Has a

  gentle, disarming, relaxing aroma


Helps 

 

manage the beard better


Heavenly Hair Beard oil brings together 

Amla and Vitamin E

 

to create a glorious oil that lends a

 

rich, voluminous look to the beard!