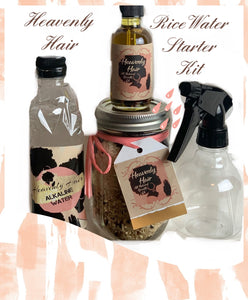 Using rice water as a natural hair treatment dates back to ancient Asian civilizations in Japan, China and India.  In ancient Japan, only the ladies of the Royal Imperial Court used rice water and were known in their Kingdoms for their beautiful, luxuriously long hair that draped to the floor. Black Rice in particular was known as the "Forbidden Rice" because only the aristocratic families were allowed to use this powerfully potent rice as a hair treatment. 
There is a particular ingredient found in organic rice water called Inositol, that has been found to penetrate damaged hair shafts and repair them from the inside out. In addition to Inositol, Heavenly Hair Products' Powerful & Potent Organic Rice Trio contains vitamins, minerals, antioxidants and proteins that aid in rapid hair growth. Our product is 100% organic, gluten free, non-GMO and Kosher certified. When used every 2-3 weeks as a protein treatment, our Organic Black Rice will cleanse, hydrate and fortify dry and brittle hair and restore the natural softness and shine. 
Organic Black Rice water was used exclusively by the ancient royals - until now. Ready to take your natural hair journey? Do it with Heavenly Hair Products, you will love the results!